Today we're gonna be whipping together some wholesome meals that are perfect for lunch or dinner These recipes were meant to be really easy I think on average we whip them together in about 20 minutes or so. So they're really quick, filling, comforting, fresh, tasty, nutritious, of course. I want to take a brief moment to thank Wix as well for partnering with us on today's video They are the amazing platform that we use to create the whole Pick Up Limes website But I'm gonna chat more about them at the end for now we're gonna get started on making the recipes the first recipe we're gonna make is this Incredibly delicious veggie noodle stir-fry with a creamy peanut lime sauce.
It's a dish loaded with a variety of rainbow colored veggies So we're going to begin by cooking 125 grams of dry noodles according to the package instructions Here we used chow mein noodles, but you could also use ramen brown rice or soba noodles And while this cooks we're gonna finely mince 2 shallots doing the same to 2 cloves of garlic We're then gonna add this to a pan on medium-high heat with a bit of oil and cook it for a couple minutes You can add a splash of water if needed to deglaze the pan But I'm gonna thinly slice to medium bell peppers.
We used a red one and a yellow one And once it's all sliced we can then cut it again in half lengthwise we're then gonna peel and cut two carrots into thin matchsticks or Alternatively you could shred them and then we're gonna add this all to the pot along with about a cup of shredded purple cabbage Just to add a pop of color cook this for two minutes until it's just heated up cooked through but still crunchy So while that all cooks we're gonna prepare the peanut lime sauce by adding three tablespoons of peanut butter to a jar or bowl You can substitute it for tahini or almond butter if you're allergic or don't like peanut butter Or then gonna add the juice from one lime one and a half tablespoons Each of sodium reduced soy sauce and sesame oil a tablespoon Of hoisin and Sri Racha hot sauce or other mild hot sauce and half of a tablespoon of agave syrup We're then going to shake it or mix it until it's all well combined and creamy When their noodles are cooked we're going to drain it and then add it to the pan of vegetables We're going to pour over the sauce and toss everything to combine Once you've served some of the noodles for yourself into a bowl or on a plate you can then top it with a generous amount Of roasted cashews and some fresh thinly sliced scallions some sliced red chilies or cilantro This recipe is one of Robin's new favorites, he's asking me to make it for him all the time He likes it when it's hot I actually think the dish tastes really good if you enjoy it cold So you can choose whichever you think you might prefer and it keeps really well in the fridge, too So you can enjoy it as leftovers as well For this next recipe we're going to be making this refreshing quinoa and chickpea summer salad with a zesty roasted garlic dressing We're gonna first preheat the oven to 200 Celsius or 290 Fahrenheit and then we're gonna cut the head off of a bulb of garlic Transfer it to a baking dish and pour over about a teaspoon of oil Then roast it for 15 to 20 minutes or until it's lightly golden Meanwhile, we're gonna cook 1 cup of dry quinoa according to the package instructions And once it's cooked this is gonna make about 2 cups worth of cooked quinoa to a large bowl We're gonna add a cup of cooked chickpeas.
Mine were just drained and rinsed from a jar and to the bowl We're also going to add two bell peppers that have been chopped We used a red one and an orange one just to bury up the colors in the salad We're then gonna dice 1/3 of a large cucumber one medium tomato also diced a handful of kalamata olives that are chopped a sprig of green onion also known as a scallion thinly sliced and a quarter cup of dried cranberries You can add it whole or chop it up a bit like I'm doing here.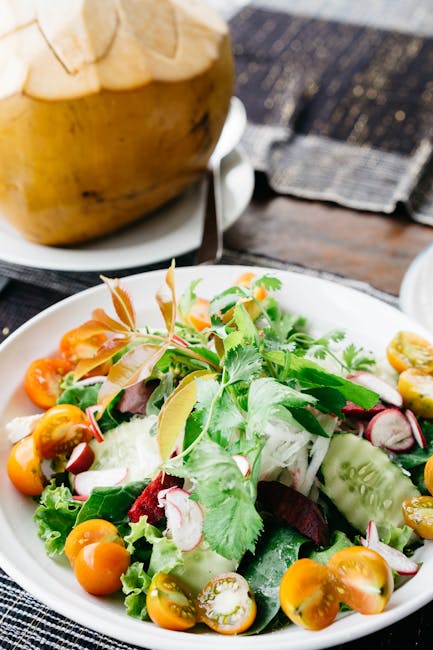 Whichever you prefer. By now that quinoa should be done cooking So we're gonna set it aside and remove the garlic from the oven and once it's cool enough to handle We're gonna remove each clove and place it into a bowl. It's super soft So it's gonna mash easily using a fork and then we're gonna add the rest of the ingredients to make the dressing We're gonna add the juice from two whole lemons Which is gonna make this dressing refreshingly zesty 2 tablespoons of olive oil 1 tablespoon of tahini Which if you can't find it at the store We have a recipe on how to make it at home link is in the description a teaspoon Each of soy sauce and balsamic vinegar and onion powder and a sprinkle of freshly ground pepper. Give it a whisk and that's it Once we've added the quinoa to the salad we can then pour over the zesty roasted garlic dressing and toss everything to coat At the end I added half of a cup of coarsely chopped roasted Almonds along with some reserved dried cranberries and scallions for garnish like the previous recipe This one can be enjoyed both warm or cold and it can also be made in advance to enjoy in the coming days so long As the dressing is stored separately from the salad.
It's a refreshing feeling but still light salad that's perfect for the warmer weather The final recipe is this creamy spinach mushroom and coconut curry It's just bursting with flavor to make this we're gonna first finely chop 1 medium onion and finely mince 3 cloves of garlic We're then gonna peel a thumb-sized piece of ginger and finely mince it as well To a large pot on medium-high heat we're gonna add a couple of teaspoons of oil and then the onion garlic and ginger mixture Give it a stir and let it cook for about 3 minutes You can add a splash of water if needed to deglaze the pan So while this cooks we're gonna thinly slice about 15 small mushrooms and back to the pot We're gonna add 2 cups of cooked chickpeas and the mushrooms giving it a stir and letting it cook for another 5 minutes While this cooks we're gonna thinly sliced 1 red bell pepper Cutting it in half again lengthwise and back to the pot on the mushrooms of softened We're gonna add the spices a tablespoon of curry powder and half of a teaspoon of paprika powder we're gonna sauté this for about a minute to let the spices bloom which brings out the flavor of the spices even more and then We're gonna add a can of coconut milk.
We used full fat You can use reduced fat if you prefer and then we're adding the red bell peppers and a bit of salt and pepper Cooking it again for a couple more minutes. Meanwhile, we're gonna slice about two handfuls of cherry tomatoes adding this to the pot at the very end along with four big handfuls of As you stir it in cooking just for a little while longer you're gonna start to notice the spinach is going to start to soften And when it softens sufficiently enough, you can remove it from the heat This dish is perfect to enjoy with some naan or rice Here we use some whole-grain red rice and serve it alongside a generous few scoops of the curry the garnish We used fresh cilantro dried chili flakes and a squeeze of lemon works really well for this one, too As with most curries this one can be enjoyed right away But the flavors are even more intense and bold when they've had some time to melt so it's great to make a big batch of this one and Store it to enjoy over the next couple of days As always you can find the full breakdown to all the recipes on the vlog and those links are in the description box below We always provide our recipes in both cup and tbsp measurements as well as gram and milliliter measurements depending on which one you prefer and each recipe comes with a downloadable PDF You can find it just under the title for the recipe and we've included that so that you can either print it off or refer To it on your tablet or on your phone when you're making some meals in the kitchen Hopefully it makes your life a little bit easier And again, I want to take a brief moment to thank Wix for partnering with us on today's video I have been using Wix for the last two and a half years and I use their platform to create the entire Pick Up Limes site That you now see I think when it came to building a website, I really had no idea where to begin But with Wix they offer hundreds of these designer templates that you can choose from so you're not starting from scratch And so when I picked one all I did was I changed the text I swapped the pictures for some of my own and I used their drag and drop features to move things around
Read More: Cook Once, Eat Twice Healthy Dinner