– This air fryer salmon recipe is probably the fastest way to get a healthy dinner on the table in under 15 minutes. The inside of the salmon is so succulent and moist. The outside has a gorgeous crust and the simple topping of Dijon mustard and spices make it taste like a million bucks. All you've gotta do is serve it up with your favorite side dish whether that's broccoli, carrots, asparagus, potatoes or rice for the perfect easy weeknight meal and side note, you can find all of those side dish recipes on my website but today, let me introduce you to your new favorite air fryer salmon recipe.
When you go to the fish market, ask for four center cut pieces of salmon, about six to seven ounces each.
If you don't have a local fish market, you can absolutely use frozen salmon. Just make sure to thaw it in the fridge the night before. When it comes to the type of salmon to use in this recipe, you have a few options. I'm using king salmon today which is one of my personal favorites. It is packed with omega-3s.
It's got a really soft and buttery texture but it's also one of the most pricey salmon options. You could also use coho salmon which has a really mild flavor but is still packed with healthy nutrients. You could use sockeye salmon which has the most vibrant pink color that you'll see at the fish counter and it has a really deep, rich flavor and you could also use steelhead trout. Don't forget about steelhead trout. Steelhead trout is a great alternative for salmon.
It's usually more cost effective and it's still packed with omega-3s and nutrients. So feel free to choose your favorite salmon or trout option. And one last comment about salmon that most people don't know is that salmon if it's not frozen is seasonal and for wild Alaskan salmon which is what I buy, it's usually available from mid May through the end of September. So it's perfect timing to make this recipe. Lay your salmon on a plate and dab the pieces with a paper towel to remove any excess moisture.
This also helps to ensure that the Dijon mustard sticks and doesn't just slide right off the top of the salmon.
So add about a half a tablespoon of Dijon mustard to the top and as you can see, I'm just squirting it straight out of the bottle and not even measuring and that's the beauty of this recipe. There's actually no measuring of any sort required. Just squirt the mustard then use a brush or the back of a spoon or even your finger assuming it's clean to spread the mustard across the top. Season the salmon with kosher salt or sea salt and freshly ground black pepper.
Now, I should mention that I do have measurements listed for this recipe on my website for reference but honestly, you can just eyeball everything. After the salt and pepper, add a generous sprinkle of garlic powder and paprika. I'm using regular sweet paprika, not smoky paprika but you can use either and as you can see, I like to make sure that the salmon is very well coated. Don't be shy. These spices aren't hot.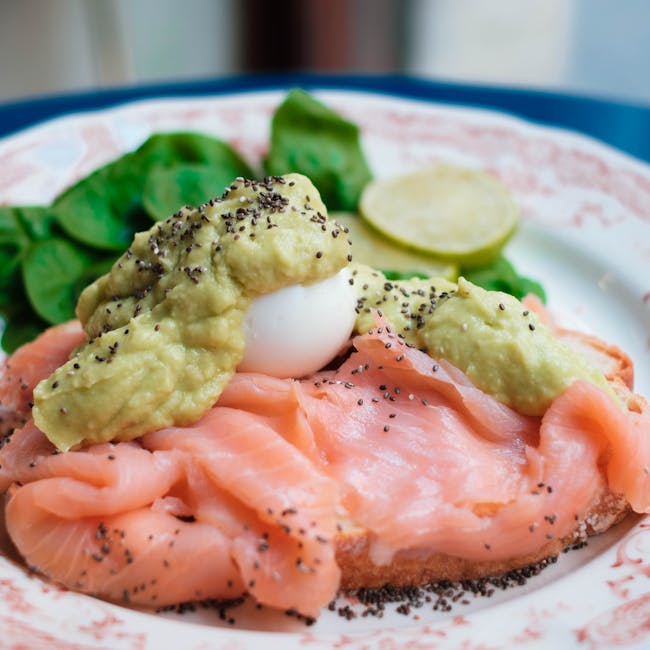 They're just super flavorful. Next is my little trick for the best air fryer salmon and it's to spray the top with a little bit of olive oil or avocado oil spray. This coats the spices and Dijon mustard on top and prevents it from drying out in the air fryer and it's less oil used than rubbing oil on both sides of the salmon at the beginning. If you watched my air fryer chicken wings video, you know I'm using my Ninja Max Air Fryer which I purchased last Christmas and I'll link it below but there's so many great models of air fryers available nowadays so feel free to use your favorite.
If you're using a basket style air fryer like I am, lay two salmon pieces in the basket as that's usually all that will fit comfortably without crowding the basket and you don't wanna crowd the basket as the circulation of air around the fish is what helps it cook perfectly.
Set your air fryer to a temperature of 400 degrees Fahrenheit and the timer for eight to 10 minutes. It's always best to slightly undercook your salmon and add more time if needed than to accidentally overcook it. And can you believe it? That's it. That's all you've gotta do for your salmon to look as amazing as this, juicy and moist on the inside with an insanely flavorful and perfectly spiced crust.
If you're cooking more than two pieces of salmon, just repeat the process again. Plop two pieces of salmon into the air fryer though do be careful on subsequent batches as the basket will be hot and then cook them for another eight to 10 minutes. As I said at the beginning, it really doesn't get much easier than this 15 minute dinner recipe.
It's pretty much foolproof and will make any cooking newbie look like a chef and the best part is that there's no dirty dishes from mixing bowls or prep work since there was no prep work or mixing required. The only thing you have to be slightly careful of is removing the salmon from the air fryer as it will be so flaky and fall apart tender and that's why one of my pieces looks like it's already falling apart.
So let's use a fork to dig into that one even more and as you can see, it is absolutely perfect.
I have a lot of salmon recipes on my website but honestly, this is the fastest and easiest one there is which makes it a hands down winner in my books. If you enjoyed today's video and wanna see more air fryer recipes, make sure to give this video a thumbs up and let me know in the comments below what you'd like to see next. (calm music).
Read More: Healthy Meals: Brown Rice | Basics with Babish